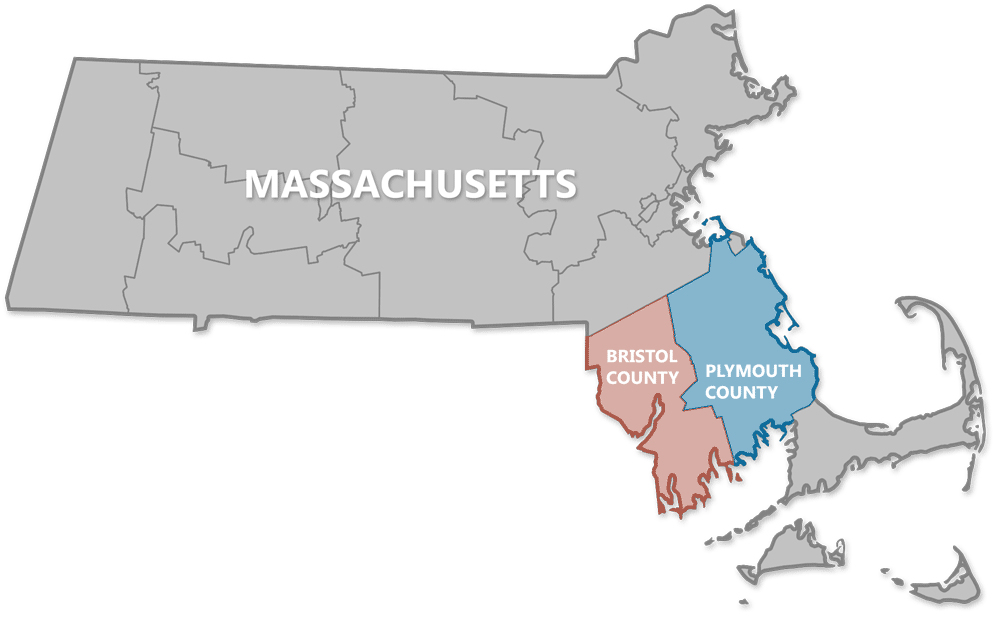 CCBC serves individuals in Southeastern Massachusetts and has offices located in Bristol and Plymouth Counties.
Community Counseling of Bristol County (CCBC) was in many respects born out of the Community Mental Health Movement. A movement aimed at providing mental health care close to where people live, and decreasing reliance on large, isolated, crowded institutions that often provided little treatment and were quite stigmatizing. This movement has had a power champion in President Kennedy, who signed the Community Mental Health Act in 1963 and whose family had personal experience with disabling mental illness. Services that are located in the community close to where people live have the advantage of being able to provide ready access to care and sustain important ties in the community, which are both critical in establishing a framework to individual recovery and a full life in the community.
CCBC as we know it today is the product of a number of merges and that have joined together over time to build a more effective and stronger organization. Over the course of these 53 years CCBC's growth has been driven by three factors: 1) By our recognition of the needs of our clients; 2) our consistent effort to respond to those needs; and 3) our partnership with key organizations in the community.
Download PDF40 Year Chronology of Key Events
Helpmate organized in Seekonk and began operations out of the Seekonk Alliance Church.

Helpmate moves into a small house owned by the Town at 396 Newman Avenue in Seekonk.

Rehoboth Problem Solving Center established at 366 Winthrop Street, Rehoboth. Marge Johnson, Director.

Phil Shea replaces Nancy Caracciolo as Helpmate Director.
Paul Roud replaces Marge Johnson as Director of Rehoboth Problem Solving Center.
Central City Community Center was established in Taunton. Kate May is its first Director.

Central City purchases site at 19 Cedar Street, Taunton. Jim Isidorio becomes Director.

Helpmate in Seekonk, Rehoboth Problem Solving Center and Berkley-Dighton Community Center merge to create Anawan Associates.

Anawan Associates becomes licensed as a mental health clinic. Partnership Clinic Agreement signed with DMH.

Anawan Associates merges with Central City in Taunton to form Community Counseling of Bristol County with offices in Taunton and Rehoboth.

Day Treatment Program launched at 19 Cedar Street, Taunton.
High Street Taunton office opens to support growing Children's program.

Emergency Psychiatry Services established to provide 24 hour emergency services.

Partial Hospitalization Program opened at Cedar Street.
CCBC becomes an affiliate of Morton Hospital and Medical Center to improve the delivery of medical and behavioral healthcare services.

CCBC expands outpatient services to 68 Church Green in Taunton.

CCBC starts Community Support Program under contract with Medicaid managed behavioral health providers.

Robert Smith House opened to provide treatment and housing for men in early recovery from addiction.

CCBC and the Greater Taunton Council on Alcoholism merged to improve care for those with addictive disorders.

Bridge House opened with support from fed. Dept. of Housing and Urban Dev. to provide housing to those with psychiatric disabilities who are homeless.

Family Stabilization Program started (now In-Home Therapy).

DMH awarded CCBC the first PACT (Program for Assertive Community Treatment) contract in SE Masachusetts.

CCBC consolidated its previous program sites into our new location at Mill River Place.
CCBC's Attleboro clinic became fully operational with outpatient and partial hospital services at the site.

To increase affordable housing in the community and support growth, CCBC forms: CCBC Housing Dev. Corp. and CCBC Properties, Inc.
CCBC received an Award from DMH Commissioner in recognition of the care and treatment of evacuees of Hurricane Katrina who were relocated to Otis Airforce Base.

Executive Office of Elder Affairs awarded CCBC the Elder Mobile Treatment Team contract.

CCBC awarded contract to develop Recovery Learning Community in SE Mass to provide clients support from peers with lived experience with mental illness and recovery.

DMH awarded the Community Based Flexible Support contracts to CCBC for both the Taunton and Attleboro communities.
CCBC awarded the Community Service Agency contract for Attleboro/ Taunton as part of the state's Children's Behavioral Health Initiative.